t o m  m a l l o n - m c c o r g r a y  / g r i f t e r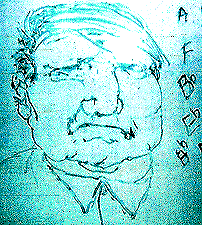 t o m  m a l l o n - m c c o r g r a y

This page is about my former life as a recording studio owner and rock dilettante. I've been involved in the music scene in and around San Francisco for over 35 years. I began in a one bedroom apartment in the Haight (in 1976) with a four-track and over the years built two studios; the second, unfortunately, in one of the most recently gentrified parts of San Francisco, two blocks from the new ballpark. Closed in 1998. I played drums in marching bands and in competing color guards on the East coast when I was younger and, after a huge hiatus, for three years in the American Music Club (1986 - 1989), bass in AMC for half a year (1989); drums in the Toiling Midgets (1991 - 1997; 2007 - present). Recently, bass in the reconstituted Negative Trend (2008 - 2010).

Recordings
Updated April, 2012

Multi-media, Live Recordings, Film and Theatre
In the process of being folded in to the above and the RYM Database Project, April, 2012

A List of Bands/People I've Recorded
Under construction

---
My RYM List: A Discography
Still under construction; includes a lot of obscure demos I worked on.

My RYM List: Bands I've Recorded Live

My YouTube Channel
Under construction. Home-made videos of stuff I've worked on and some older: Toiling Midgets, Barely Human, a portion of a David Sellwood (died a few days ago, April 7, 2012) video on Parthian coins, documentary of Verne Wells, Steven Okazaki's documentary on AIDS (a small part filmed in my studio), Assassins of God, Pop-O-Pies, Black Humor, American Music Club, Flying Color, Chance the Gardener, Pell Mell, Lucky, Wade, Star Pimp, Part-time Christians, Torcher, Dieselhed, Popealopes, Human Torches, Wanting Seed. Lin Clover. Kid Courage. Soon adding: Our Lady of the Highway, Verbal Abuse, Fuck Ups, Indian Bingo, Flax Sifter, Bob Bradshaw, etc.

My Academia.edu Page
Under construction. Links to documents and image files on ancient numismatics I created over the last two decades.

My GoodReads Page
Under construction. Created, mostly, to list esoteric numismatic titles.

My Discogs Page
Woefully deficient.

My AllMusic Page
Woefully deficient.

---
Thomas Paine
Patriot, revolutionary, deist.

Alexander Hamilton
The man who made modern America.

Bernard Herrmann
An overview

Christopher Hitchens (1949-2011)
Writings, reviews, videos, etc.

Salman Rushdie
Writings, reviews, news, etc.

The New Vulgate
Joe Carducci and Chris Collins, editors

Retrospective Foresight
Nich Blakey's music blog; he'll get back to it at some point.

The Top of My Head
ML Compton's blog

---
b a c k  t o  m a i n  m e n u
---