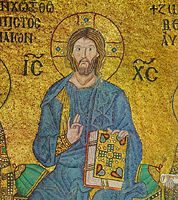 r o m a i o n  e m p i r e


Renamed Constantinople in 330 AD, the ancient city of Byzantion gave its name to a combined Greek and Roman culture that lasted for almost 1000 years. The 'Byzantines' never referred to each other as such; they called themselves Romaioi, the Greek word for Roman. In 1453 AD, the Ottoman Turks overran Constantinople, putting an end to the Romaioi and the Middle Ages.

Special thanks to Dane Kurth for help with attributions.


---
r e f e r e n c e s
---

SBC = David R. Sear, Byzantine Coins and their values, Seaby, London (1974)
DO = A. Bellinger & P. Grierson, Catalogue of Byzantine Coins in the Dumbarton Oaks Collection and the Whittemore Collection, 5 Volumes, Washington, DC(1966-73)
WBC = P. D. Whitting, Byzantine Coins, G. P. Putnam & Sons, New York (1973)
BBC = George E. Bates, Byzantine Coins, Archaeological Exploration of Sardis, Harvard University Press, Cambridge (1971)
ACC V = Wayne G. Sayles,Ancient Coin Collecting V: The Romaion/Byzantine Culture, Krause, Iola, Wisconsin (1998)
B/E BCC = Harlan J. Berk and Victor England, Byzantine Copper Coins, Public Auction December 7, 1989, Berk/England, Chicago (1989)



Glossary


Akakia: scroll
Chlamys: imperial garment fastened at right shoulder; cloak
Cuirass: a piece of armor for protecting the breast and back
Diadem: jeweled headband
Globus Cruciger: globe surmounted by a cross
Labarum: military standard bearing Chi-Rho [ΧΡ] symbol
Loros: jeweled garment
Mappa: scroll; similar to Akakia
Nimbus: halo
Orans: 'praying'
Pendilia: pendants hanging from either side of a crown
Potent Cross: cross with a bar at the end of each arm



Dates


I = year one
II = year two
III = year three
IIII = year four
μ = year five
ς or uI = year six
ςI or uII = year seven
ςII or uIII = year eight
ςIII or uIIII = year nine
x = year ten


| page 1 | page 2 | page 3 | page 4 | page 5 |

---
Imperial Byzantine Coinage