t o i l i n g  m i d g e t s
Toiling Midget historical recollections, distortion, feedback and disinformation from the memory banks of Paul Hood. The Toiling Midgets are Craig Gray and Paul Hood, guitars; Erich Werner, bass; Tom Mallon, drums; and occasionally, Mark Sullivan, organ.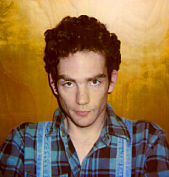 THE BLUEST SKIES YOU'VE EVER SEEN ARE IN SEATTLE
BY PAUL HOOD
Had a mystical musical experience at the age of four or five years listening to 'loves you yeah, yeah, yeah' on the radio, and then launching myself at the couch and was jumping up and down to the sounds. In kindergarten, I made a violin-shaped guitar out of cardboard, and seeing BEATLES on the black and white was a powerful and disturbing experience for my classically-trained jazz musician father, whose contempt for rock music began with Jerry Lee Lewis, and continued into my teens. Most notably rejected by the man with perfect pitch: SLADE and the NEW YORK DOLLS.
My first guitar was a pathetic excuse for an musical instrument, its metal strings clanked and buzzed , effectively eliminating the upper register of notes. Two years later I got an electric guitar, with a decent neck, and I took the first of a handful of lessons before quitting over the selection of study music, 50's and 60's jazz standards. I was learning more from my new friend, the son of one of my father's colleagues at University of Washington.
When I met Jim Basnight, he was listening to Jimi Hendrix, Grand Funk Railroad, old Bob Dylan and the Rolling Stones. I showed him my newest lp. purchase, Electric Warrior, by T REX, a band I'd heard about while baby-sitting at my guitar teachers' house. "The audience goes nuts, they haven't seen anything like it since Beatle-Mania" he said. I liked it a lot, but it wasn't the Beatles. (Anyway) From there, Jim discovered the Rise and Fall of Ziggy Stardust and the Spiders from Mars, which hit me alot harder, more the idea of a life-altering band. I'd heard Space Oddity and Changes, and when I heard Mick Ronson's guitar solo in the song MoonAge Daydream, I thought I'd been transported to Mars--brutal yet melodic.
My second mystical musical experience became the early and mid '70s Glitter Rock movement where wildly diverse music existed under the same label. Slade presented heavy pop attitude and fashion sensibility. Sparks, Roxy Music, King Crimson, John Cale/Chris Spedding crafted songs featuring complicated musical ideas but the New York Dolls and Iggy Pop pushed the boundaries of pop music into raw, basic rock. Mick Ronson, the guitarist, changed my ideas about the way rock guitarist played. When the Spiders broke up, Ronson put out Slaughter On Tenth Avenue, his first solo album, which to me was the epitome of the rock music form after Sergeant Pepper.
In 1974, David Bowie seemed diluted, and when Young Americans came out I was rather neutral about it and Bowie. It was then that Jim and I began playing with other musicians and formed the LuvaBoys, recruiting two guys from South Seattle for their Bowie-esque looks and quality equipment. We covered songs by Alice Cooper, David Bowie, T-Rex, the Dolls, and the Stooges, and played only one show in front of a live audience--nearly causing a riot among the 700 to 1,000 students at the Roosevelt High School talent show. Virtually all of the students were required to attend, and though relatively polite to the acts before us, took the silver satin pants, glitter, makeup, platform shoes, extremely loud volume, and Jim's provocative silver paint job on his body like a huge adrenaline rush and showered us with fruits and other foods from the lunchroom. Their screaming and their threats convinced the Vice Principal that he was about to lose control of the situation.
I watched him appear behind my amplifier and I ignored signals that I was too loud. He turned the amp volume down himself and went across the stage to re-enact the scene with Jeff, our bass player. I turned it back up, as did Jeff. After the screaming feedback of my guitar ended Moonage Daydream, we thought we were finished. The sound/stage manager was locked in the control room, where he made sure the Vice-Principal couldn't cut off the power, and encouraged us to play more; we launched into I'm 18 by Alice Cooper. I experienced my first taste of spontaneous creativity, the feeling of an another power in control, and my planned guitar solo was forgotten, as the recording was to prove later. My intuition lead me to better results than did my practiced intellect.
The song over, boos and catcalls erupted, and later, Jim was cornered and became the focus of the pent-up energy of confused teenage Jocks and Jerks yelling "FAGGOT!" Hate rules! The schools punishment was experienced fully in Homeroom the next day, when 15 extra disciplinary minutes--"to reflect on bad manners"--was brought to bear on the entire student body. To Jim and I, it was nothing short of triumph.
After the LuvaBoys broke up, I heard Jim formed a new band with no bass player, and was asked to play bass. I agreed, and got re-acquainted with drummer Lee Lumsden, who also was editor of a fanzine called CHATTERBOX, which chronicled the local music happenings around the University District and music in general. Our tastes were simpatico, and since he had no experience as a drummer, I figured my zero experience on bass made us equals. Jim's girlfriend, Jenny Skirvin, provided the Meyce a thoughtful and melodic background singer; and between Jim's first ten songs and my two or three, we had enough to play live.
Eventually the local press wrote at length of our efforts, calling us "Punks--Taking Control of Local Rock-and-Roll. . .leading an important new trend . . . " Taking our lead from our new heroes, from the Glam rockers to the new individualists--Patty Smith, Tom Verlaine of Television, the Ramones, and the Modern Lovers--we'd decided to rent a hall with two other bands, the Telepaths and the Tupperwares, billing it as the T M T Show, May 1st 1976. I remember Tomato DuPlenty of the Tupperwares introducing me to the "Security" for the evening, one Penelope Houston, from Bellevue, across Lake Washington from Seattle. Soon she would move to San Francisco and form the Avengers, and the Tupperwares would move to L.A., where they re-named themselves the Screamers; but all that was still months away.
It wasn't long before I graduated from high school and spent the summer in England and Europe, studying drama, and decided that rock music was as much theater as I wanted. So the Meyce rented a house together upon my return, and I moved out of the parent's house, when I was 18 years old. The Meyce began practicing five days a week, four hours a night, after community college music courses and part-time jobs.
A year later, with a list of 100 songs, a demo tape, and the legacy of having been one of the three original "punk" bands, we opened for the Ramones on their first Seattle appearance, in front of 800 people in May or June of 1977. For all intents-and-purposes, we represented the changing of the musical guard in Seattle, and at this point Lee and I left the Meyce. Jim Basnight went to New York to search for his muse, before moving to L.A., and then back to Seattle. Mine became the Enemy, a hippie-punk rock group, which formed after Damon Titus and manager Roger Husbands flew to San Francisco to see the Sex Pistols. They immediately all cut their hair, except the bass player (who quit instead). They quickly came up with "I Need an Enemy," which they later released as a single, but to me, became a demo to learn when they made it known they needed a bass player. It was the Enemy that got to San Francisco, and played the Mabuhay Gardens, giving me my first taste of touring with a band. Arriving a day early, we saw Crime play with Negative Trend and UXA. Damon hung out with his ex-girlfriend, Penelope, and this opened the door for the Enemy on S.F.'s punk rock movement.
We made connections to stay with "the Trend" on our next trip down, a month later, and invited them, the Dils, and the Avengers to play in Seattle at our rehearsal space/club, the Bird. Negative Trend's place was in the warehouse district, right above a gay S&M club. It was a large space, with five or six bedrooms, where it seemed no one ever slept. This was the first place I'd ever been to where no one was concerned that the only food in the house was a bag of sprouting potatoes and a bottle of cod liver oil.
I watched as someone named Suzi Skates actually skate everywhere, inside and out. She was even wearing them while she and her boyfriend fornicated very loudly in the room next door, waking Damon, George and I early one morning. We tried to watch them through the bullet holes in our adjoining room's wall.
I made friends with a very pretty girl, who had been in a triple X film, though I didn't know it at the time. The others were all hot and drooling over her, but I was the one enjoying late night conversations with her. She'd been married to Alex Chilton not long before, and was presently going out with Jimmy Avenger. She told me she was haunted by shadows of her father's involvement with the "Intelligence Community" (in New Orleans in the early '60s).
Through Penelope I met the other Avengers, the Dils, Will Shatter from Negative Trend (recently transplanted from England), and also the Trend's guitar player, Craig Gray. His girlfriend, Debbie Sue, was a dancer, and she pushed us together; sensing that the "two quiet boys" had much in common. At the time I thought the only thing we had in common was our unshakable passion for the genius of Mick Ronson, and Craig arrived home with a new Slaughter and the Dogs single ("Slaughter"--get it?) produced by Mick Ronson. It sounded like Punk Rock, except for the guitar solo. Both of us just stood without speaking, side-by-side, as we played and replayed the single; then did the same for the Buzzcock's Spiral Scratch ep.
When the Enemy got back to Seattle, I quit the band, formed the Little Magnets with Lee Lumsden, and decided to move the band to San Francisco. I felt that the Seattle scene was moving too slowly. Cops were closing down the shows, a point driven home by police batons at the final "Bye-bye Bird" party, which was held the night following their having shut down the club for the last time, while the Dils were on stage. Police brutality I could remember even eight years earlier in Chicago, Kent State, and right home in Seattle. It was hard to rent halls anymore, and things seemed far more interesting in San Francisco--as history proved me wrong, Seattle/San Francisco played out different sides of the same coin. Anyone interested in the "true" history of the Seattle Rock Music Scene can become enlightened by spending time with a book called Loser. (the True Story of the Seattle Rock Scene) by Clark Humphries.
The "Scene" did have more and more bands, but they seemed destined for obscurity, thanks in part to the true conservative nature of the club/liquor laws and general attitude of the business community and the police. The Little Magnets played one show in Seattle and then the move was on.
Lee and I arrived in San Francisco on May 1st, 1979 and saw ex-Velvet Underground hero John Cale our first night there, over in Berkeley, and my girlfriend ditched me to play groupie with Cale's drummer,--a nasty habit she'd picked up recently--leaving us to find our way back to the City as best we might. (In a story that must be told, there wound up being no way back to the City that night at 3:00 am, so the drummer and Jeri, my girlfriend, borrowed Cale's car and drove the rest of us back to my sister's place in San Francisco.) Lee Lumsden moved back to Seattle a week later and the guitar player followed a month after.

g o  t o  p a g e  2

---
b a c k  t o  t o i l i n g  m i d g e t s
---